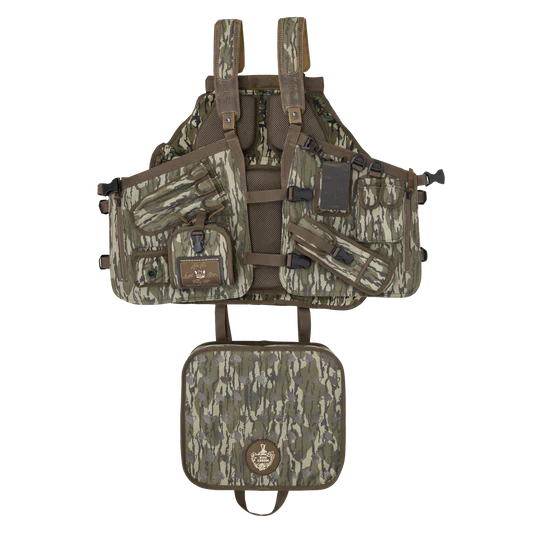 2023 Kids Hunting For A Cure




St. Jude's Event
We are selling tickets for a
Mr. Fox Turkey Vest, Limited Edition.
This vest has been 75 seasons in the making. This is one of the most special projects in Mossy Oak's history. 
Mr. Fox's obsession for chasing and conserving wild turkeys began early on in his life. The first turkey Mr. Fox called up and killed was in the heart of an Alabama River swamp on a spring day in 1944. Ever since that day, Mr. Fox has been obsessed with wild turkeys. He grew to learn and understand the struggles that they would inevitably face, and that it would be up to us as gamekeepers to ensure the survival of the wild turkey population in America.

Mr. Fox once said "The good that men do will live long after they are gone" and he epitomizes those words every day of his life. The Fox Vest is more than just a turkey vest, its meaning is much deeper. This vest symbolizes what it truly means to be a gamekeeper. It is a symbol of giving back to the resource more than we take. It is a symbol of hope, that by following the example that Mr. Fox and people like him have set, wild turkeys will thrive for generations to come.

So, when you're out in the woods wearing your Fox Vest, remember what it stands for. When you're breaking daylight to the sound of gobbles ringing through a bottomland swamp, feeling the sound of an old gobbler drumming just out of range or squeezing the trigger of your granddad's shotgun with shaky hands and short breath, wear your Fox Vest with pride and remember that what you are wearing is more than just a vest, it's a way of life. Read more...
Purchase your tickets today! Tickets are 1 for $10 or 3 for $20. Need not be present to win.

To be given away on October 28th or when all tickets are sold, whichever comes first.
3 WAYS TO PURCHASE TICKETS
1 - Purchase tickets online below
(in special instructions please note Name, Phone Number & how many tickets you are purchasing)
2 - Call Dale, (256) 755-6539
3 - Mail your name and number of tickets along with your check to: 
Kid's Hunting for a Cure
Attn: Dale Riddle
 279 Bell Factory Rd., Huntsville, AL 35811